Customer Background & Requirements
The E-470 Public Highway Authority is responsible for a highway of the same name traversing the Denver Metropolitan Area in Colorado with a contact center staff of 150 employees. The E-470 is a nonstop, cashless, all-electronic toll highway that does not use any tax funding to operate, maintain, or improve the road.
WSP USA is a globally-recognized professional services firm with around 50,000 employees. They provide technical expertise and strategic advice in a range of sectors including transportation. WSP worked closely with E-470 and USU to find the right solution for E-470's contact center.
Knowledge Center brought together everything into a single system that's designed exactly for contact center needs. I can't imagine ever going back.
Susan Ermisch, Director Of Customer Service at WSP USA for E-470
About e-470
The E-470 Public Highway Authority is responsible for a highway of the same name traversing the Denver Metropolitan Area in Colorado.
E-470 also partners with CDOT, HPTE Plenary, and Northwest Parkway for billing and customer service – essentially handling all customers who use the toll road or express lanes in the Denver metropolitan area.The contact center is 150 strong of WSP employees.
Mission
The customer's goal was to create and deploy a modern knowledge management solution that would centralize all existing support data and reflect their various formats and use-cases.
It should enable them to digitize documents and instantly provide information and alerts to all agents. The KM solution must capture, maintain and deliver support data to ensure consistent service among agents and channels as well as serve as a training hub.
Challenges
Relied on multiple systems for knowledge
Existing systems not customized to business needs
High back office effort required to maintain data
High call volume
Why USU?
Inside-Out approach focusing on agent experience
Contact center specific solution
Powerful search and dashboard
Competitive pricing
Solution
Cloud based knowledge management platform
All Support data centralized in one system
E-learning for all new training
Dashboards and alerts for news, reminders, updates
The Results
Eliminated printed materials like flipbooks
Consolidated support data from multiple sources into Knowledge Center
Used Knowledge Center for all new information, changes, news & reminders
Used e-learning for all training and onboarding
Sent alerts via Knowledge Center. No more emails with attachments.
Replaced mass emails to review documents with editorial workflows
Employed the QA and Training teams as experts to educate and drive adoption
Used decision trees for quality assurance and training
Agent view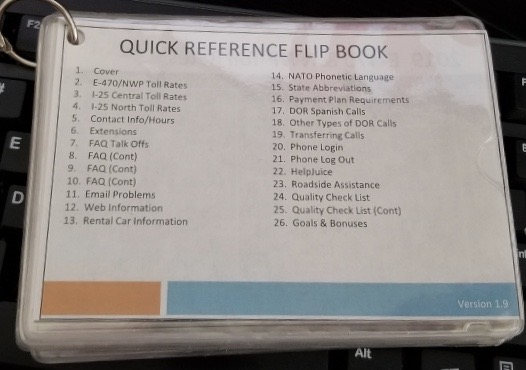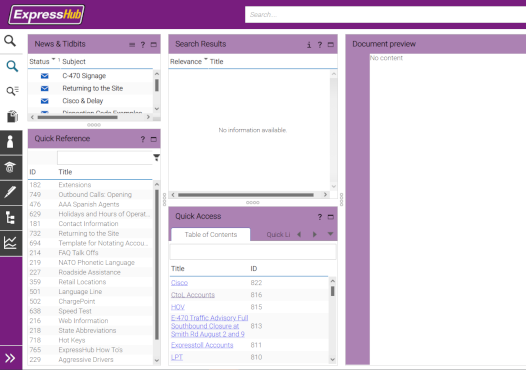 Customer Situation & Challenges

E-470's contact center relied on a combination of systems and sources to store and deliver support materials. This included printed materials like binders and flipbooks, Microsoft Word documents on local and network drives and HelpJuice for web-based FAQs. These existing systems were not integrated and thus could not be organized into a clear workflow nor customized to their specific business requirements.
With multiple sources to maintain, the back-office effort to maintain their support and training materials was high leading to inefficiencies and gaps between when information changed and when it was available to agents and customers. This challenge, familiar to many contact centers, led to inconsistent service among agents and departments and was exacerbated by a continuously high call volume.
Previously, agents relied on a quick reference flipbook for key phone numbers, procedures and solutions. Because it was printed, if even a phone number changed, that page would be printed out nearly a hundred times, hole punched and then someone had to physically replace it for every agent's book. This led to many frustrating hours of work for the backend team that has now been replaced with a digital editorial process.
Because E-470 does not have toll booths and relies on photos of license plates, its contact center has the herculean task of dealing with thousands of different plates. The state of Colorado alone has around 100 designs and states regularly issue and retire plates every year. Combined with out-of-state vehicles, agents deal with a huge amount of reference data to review, not to mention confused drivers calling about why they suddenly received a bill in the mail for the toll road.
It's the main point of reference for agents. If you have a question, go check ExpressHub first. We have everything documented out and it's just easy to follow and find things now.
E-470 Employee
Migration & Implementation
All USU's projects include implementation services and E-470 was no exception. Having chosen a cloud solution, the server was setup and customized in a week with four days of on-site training including a planning workshop and role-based user training. The new system was customer branded and dubbed "Express Hub."
And Along Came COVID...
E-470 went live in January 2020 which gave them a major advantage when the coronavirus crisis hit shortly thereafter. Almost overnight, the entire contact center began working from home and all training stopped. The new cloud-based knowledge management platform became more than just a major improvement, but critical infrastructure to ensure business continuity.
As they adjusted to remote-work, training and onboarding in Express Hub (Knowledge Center) via the e-learning feature took on increased importance as did the built-in workflow processes for creating, reviewing and publishing new material. With the majority of their workforce staying remote permanently, E-470 partnered with WSP is well positioned to provide consistent and accurate customer service no matter what comes their way.
Ready to get started? See a demo!