At the height of the Corona crisis in April 2020, based on an employee initiative, USU decided to use its chatbot technology to launch a quickly deployable, service bot for cities and governments to provide fast, on-demand assistance for questions relating to the coronavirus including school closings, mask mandates, testing locations and business regulations.
By combining social responsibility with technology, USU was able to make a valuable contribution during COVID-19 for governments and citizens struggling to stay on top of a dynamically changing situation. USU developed specific packages that can be implemented quickly and used free of charge.
Our goal with USU's chatbot was to rapidly improve our citizen services in the district and simultaneously reduce the workload of our coronavirus hotline. Digital tools offer local governments a great opportunity to improve their services and better reach younger audiences at the same time. It's no longer a question of if, but how fast it can be adopted.
Dietmar Allgaier, District Administrator of Ludwigsburg County
At a Glance
Key Figures
>3,000 inquiries per month
Solution
Website
www.landkreis-ludwigsburg.de
About Ludwigsburg
The Ludwigsburg district lies in the heart of the old Württemberg. With 39 municipalities, - including six large towns - it is home to more than half a million people. As the northwestern neighbor of the state capital Stuttgart, it is one of the most densely populated areas of the state of Baden-Württemberg. Since April 2020, they have been using the Corona Bot on their website as a service for local residents.
Challenges
Rapidly implement online service to support citizens and local government during the coronavirus pandemic
Significantly reduce standard inquiries
Complex topics and large request volume
Frequent and fast changes to local and national coronavirus regulations
Why USU?
USU has a comprehensive, established solution with a strong record for digitizing customer services
Special offer during the pandemic to launch free corona bots to help manage the crisis, rapidly changing information and support local businesses and government
Rapid implementation within 48 hours, customizable, easy to use and low maintenance
Project Milestones
Bot set-up and initial content maintenance by USU
Maintenance of expert content by the city's editorial team
Deployment for municipal services
Continuous addition of new content based on trending search queries and review and improvement of existing answers
Solutions & benefits
Significant reduction in workload and phone calls for Ludwigsburg's service staff
Quality-assured information, even in times of crisis
Quick context-sensitive support for citizens through intelligent question and answer technology
Available on-demand 24/7
Push notifications for changes in local situation and regulations
Centralized, collaborative maintenance of content significantly simplifies and speeds up editing
Demand for new technology to help was high and municipalities in particular took advantage of the opportunity to quickly offer better self-service via their website. Ludwigsburg County also relied on USU's Corona-Bot, which is prominently displayed on their homepage at www.landkreis-ludwigsburg.de. The intelligent web-based system primarily answers questions about current Corona regulations and guidelines for each city and region.
Whether it's emergency care for children, mask regulations, testing centers or questions about school openings and closings - the system is able to interpret both clear and "fuzzy" text to quickly provide accurate answers. It can therefore offer reliable and quality-assured information.
For example, a citizen asks, "When is soccer open again?" Due to the unclear wording, the bot will ask a follow up question for clarification such as "You're asking about soccer. Do you mean the Bundesliga or would you like to play soccer outdoors yourself?" When the user chooses "outdoor soccer," the the bot provides detailed information based on the zip code the user entered noting that outdoor sports activities are currently allowed under certain conditions, e.g. if players observe the required 1.5 meter social distancing rule.
For example, if asked whether hair salons are open, the chatbot not only provides the answer ("Yes, subject to compliance with certain hygiene regulations"), but also an overview of the specific rules relevant to the question.
But the bot can do more than help with constantly changing coronavirus regulations. If a resident asks about registering a new car at the department of motor vehicles, the bot requests the users zip code and returns the address and current opening hours, following up with the option to make an appointment. The chatbot can then translate the user's input into a specific date and time, compare this against open appointment slots and can directly book the appointment.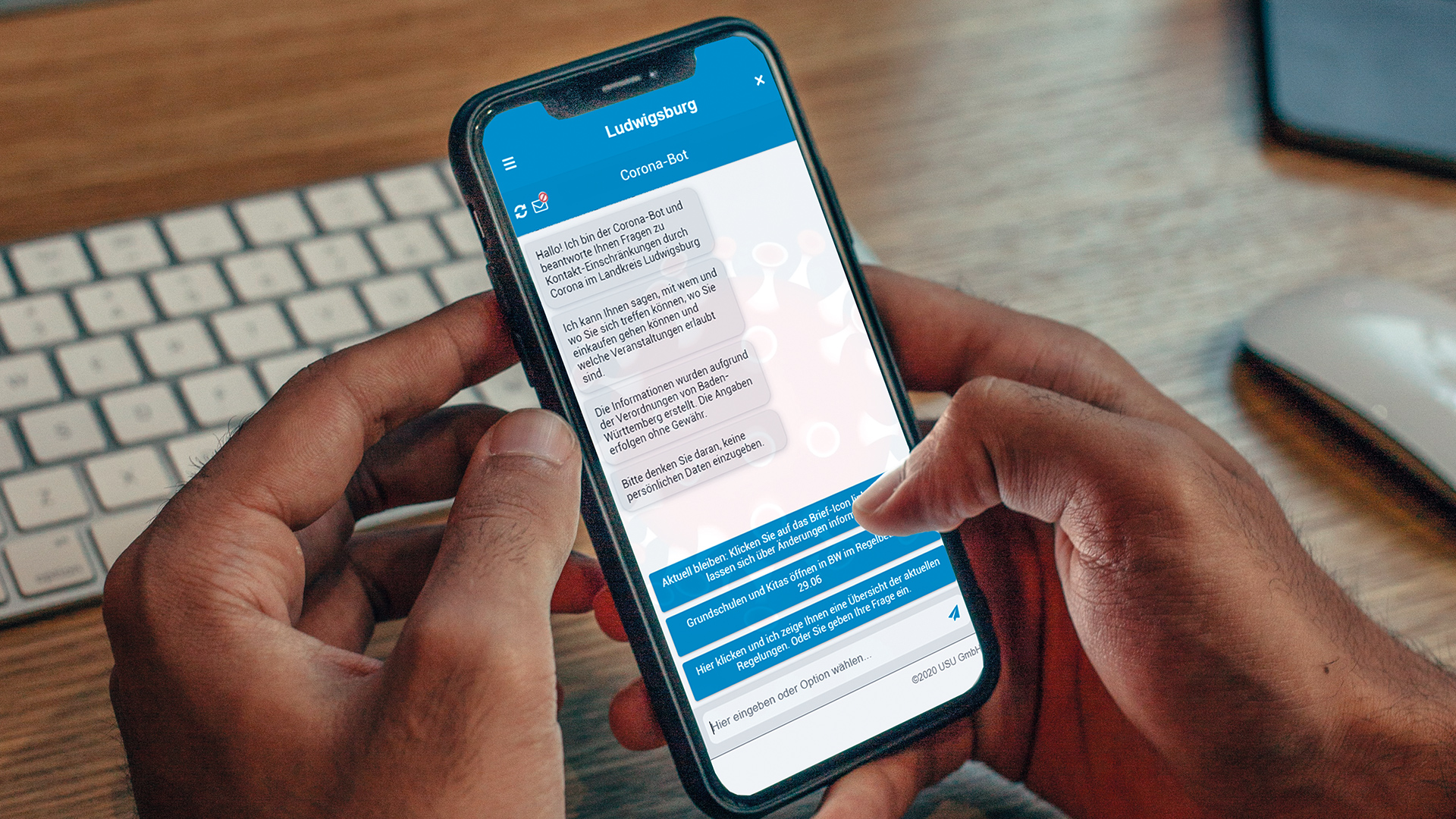 The feedback from both citizens and participating municipalities has been overwhelmingly positive. It is easy to maintain for local governments while intuitive and easy to use for citizens. It continues to learn new things every day, ensuring it is always up to date. Within 3 months, 10,000 inquiries were submitted to the Ludwigsburg Corona Bot and most were resolved on first contact.
It currently stores around 200 question and answer pairs which are reviewed daily and updated or supplemented if necessary. Decision trees (guided dialogs) have been developed to further refine queries, for example as on the topic of massages as only those medically necessary (such as in therapy) are currently allowed while those for pure wellness or relaxation are not.
Maintenance is performed collaboratively. USU is responsible for the general content, and the district specific information is handled by Ludwigsburg. The effort required remains extremely low while benefits for citizens are numerous.