Wachstum durch moderne IT gestalten
Steigende Anforderungen, die Geschäftsprozesse der SDK durch eine agile und flexible IT optimal zu unterstützen, führten seit 2013 zu Überlegungen, an welchen Technologien und Standards sich die SDK Versicherungsgruppe künftig ausrichten sollte. Die Verantwortlichen entschieden sich dafür, die Informationstechnologie zu modernisieren und ein Basisframework auf Basis von Java als einheitliche Entwicklungs- Plattform aufzubauen, das auf der Grundlage moderner Standardtechnologien die Entwicklung neuer individueller Lösungen, aber auch die Integration von Fremdanwendungen erlaubt. Dieses Zielszenario sollte die Anwendungslandschaft der SDK, die weitgehend aus COBOL-basierten Lösungen besteht, ablösen. Insbesondere die Reduktion von Entwicklungs-, Wartungs- und Betriebsaufwänden sollte Freiräume dafür schaffen, mehr Projekte durchführen zu können. Aufgrund seiner nachgewiesenen Erfahrung bei der Einführung neuer Unternehmenstechnologien sowie seiner IT-Architekturkompetenz erhielt USU nach einem Auswahlverfahren mehrerer Anbieter den Auftrag, die Planung und Umsetzung des Projektes SDK IT-Architektur 2020 als Kompetenzpartner zu begleiten.
Neben der IT-Architekturkompetenz war für uns insbesondere die Erfahrung von USU bei der Einführung neuer Technologien in Unternenehmen von höchstem Wert.
Reinhard Fischer, Leiter IT, SDK Versicherungsgruppe
Auf einen Blick
Kennzahlen
600.000 Kunden in den Sparten Kranken, Leben und Allgemeine
Lösung
USU Digital Process Automation
Financial Services Solutions
Website
Über die SDK
Herausforderungen
Aufbau einer kompletten Entwicklungs-, Build- und Laufzeit- Infrastruktur auf Basis von Java im komplexen Windows-Umfeld
Entwicklung eines bedienerfreundlichen und flexiblen Basisframeworks
Know-how-Transfer und Coaching der SDK-Entwicklung
Warum USU?
Umfassende Erfahrungen bei der Entwicklung von Individuallösungen im Bereich von Banken und Versicherungen
Viele Referenzen durch erfolgreiche Entwicklung von (Basis-) Frameworks
Flexibilität und Servicebereitschaft von USU als mittelständischer deutscher Technologiepartner
Umfangreiche Expertise im Bereich der Technologieberatung
Projektmeilensteine
Workshops mit IT-Architekten, Konzeption einer Anwendungslandkarte
Architekturkonzept für Basisframework, Aufbau der Java-Entwicklungsumgebung und -infrastruktur
IT-interne Werkzeuge und Prozesse für Projektmanagement, Qualitätsmanagement, Ressourcenmanagement etabliert (SDK- Softwareentwicklungsprozess)
Bedienkonzept für neue Anwendungen nach EN ISO 9241-110
Realisierung des Basisframeworks, Leistungsfähigkeitsnachweis durch Proof of Concept
Vorteile durch die USU Lösung
Reduktion von Entwicklungs-, Wartungs- und Betriebsaufwänden durch Standardisierung in der Anwendungsentwicklung
Dauerhafte Modernisierung der Anwendungslandschaft, neue Technologien besitzen Industriestandards oder Quasi-Standards und sind weit verbreitet
Basisframework erlaubt die Entwicklung kostengünstiger und qualitativ hochwertiger Eigenlösungen
Erfolgreicher Know-how-Transfer und effektive Unterstützung der Geschäftsprozesse durch die IT
Neue Standardtechnologien etabliert
In einem ersten Projektschritt wurden die Anforderungen der Fachbereiche und der IT-Architekten im Rahmen von Workshops aufgenommen und daraus eine Anwendungslandkarte sowie ein Architekturkonzept erarbeitet. Herausfordernd war es, eine Java-basierte einheitliche Entwicklungsumgebung in einer komplexen, Windows-geprägten Umgebung aufzubauen. Wichtig war neben den verwendeten Technologien auch die Umsetzung eines möglichst intuitiven, ergonomischen Bedienkonzeptes, da künftig die SDK-Entwick- ler auf dieser Basis neue Lösungen entwickeln sollten. Dies wurde nach den Standards der Grundsätze für Dialoggestaltung EN ISO 9241-110 realisiert.
Aufgrund der Netzwerkinfrastruktur war es eine weitere Maßgabe, möglichst wenig Netzauslastung zu erzeugen, was mit den ausgewählten Technologien (Grundtechnik Java, Spring Framework für die Plattform, Vaadin für das Oberflächen-Framework) gut umgesetzt werden konnte. Durch eine sehr enge und zielgerichtete Zusammenarbeit im Rahmen einer kooperativen Entwicklung innerhalb des Projektteams inklusive Know-how-Transfer konnte die wichtige erste Stufe des Projektes mit dem produktiv einsetzbaren Basisframework und dem Leistungsnachweis in Form eines Proof of Concept planmäßig innerhalb von 9 Monaten erfolgreich realisiert werden. Damit ist eine solide Basis für die erfolgreiche gemeinsame Fortführung des Projektes geschaffen. Die kooperative Zusammenarbeit wurde im Anschluss mit der Entwicklung einer Postkorblösung fortgesetzt, die bereits produktiv genutzt wird.
"SDK Architektur 2020" auf gutem Weg
Heute verfügt die SDK über eine moderne, flexible, einfach bedienbare und zukunftsfähige Entwicklungsplattform, mit der das SDK-Entwicklungsteam künftig individuelle und qualitativ hochwertige Anwendungen fertigen kann. Damit ist die Grundlage für den Modernisierungsprozess "SDK Architektur 2020" geschaffen. Dabei wurden alte Technologien wie COBOL durch neue, breit etablierte Standards ergänzt. Das Basisframework bietet größtmögliche Flexibilität und ermöglicht nicht nur die Anbindung monolithischer Anwendungen, sondern auch den Einsatz serviceorientierter Lösungen oder die Einbindung von Drittsystemen.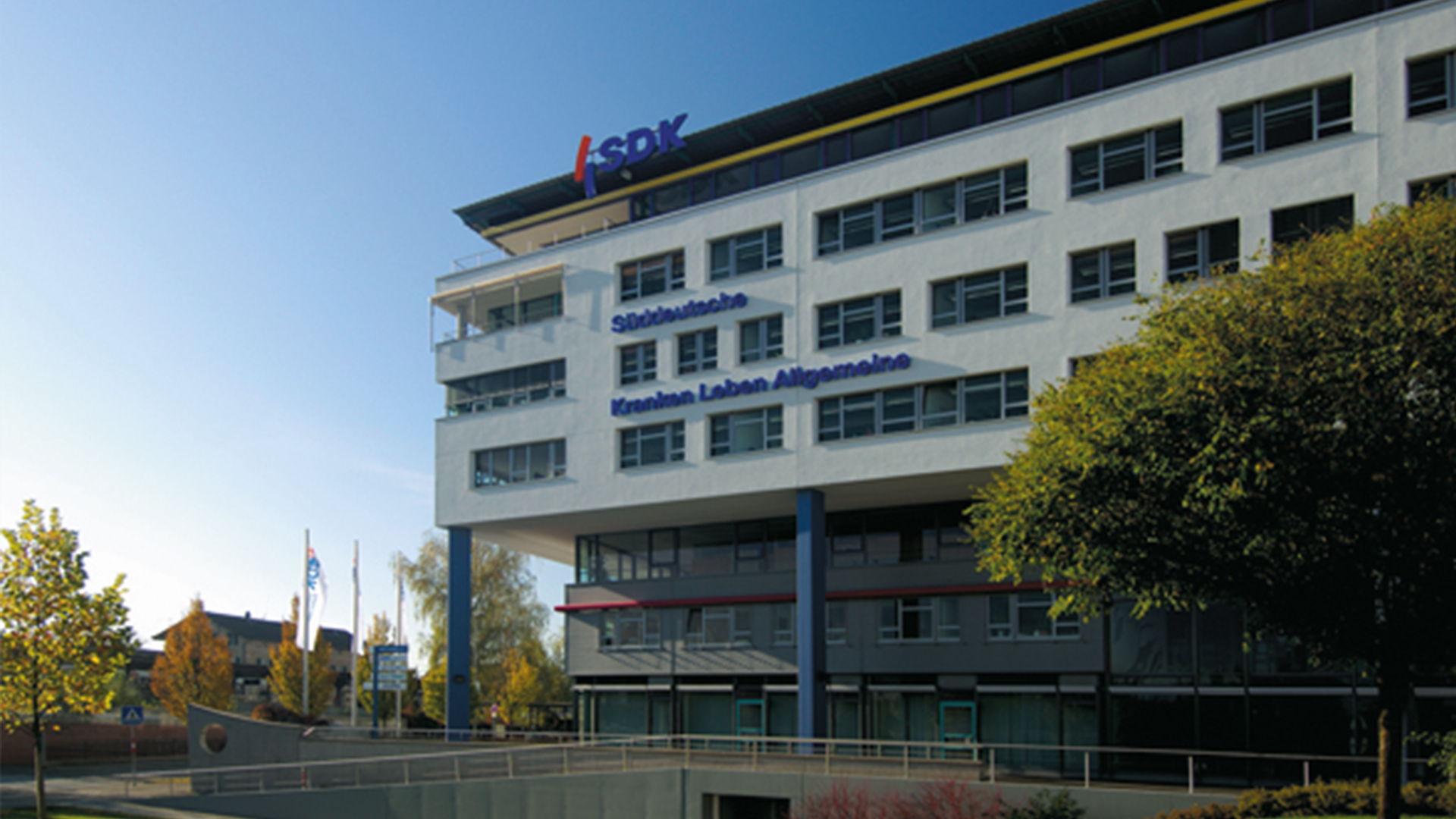 Ready to get started? See a demo!